Ye book of Copperheads.


by

Charles Godfrey Leland

Download PDF, EPUB, TXT
---
About this edition:
Published
1863
by
F. Leypoldt
in Philadelphia.
---
---
This book contains
24
pages, written in English.
Genres to which this book can be related:
Poetry, Humor
The book describes such subjects as:
Lincoln, Abraham, 1809-1865., Limericks., Copperhead Movement., Caricatures And Cartoons -- United States., United States -- History

The book is related to: United, Unite, Unit, Story, States, State, Poetry, Poet, Movement, Men, Lincoln, Limericks, Lime, Humor, History, Head, Copper, Cat, Cartoons, Caricatures, Caricature, Car, Art, Abraham Authors: Charles Godfrey Leland
---
About the book: A collection of cartoons and satirical verses.
---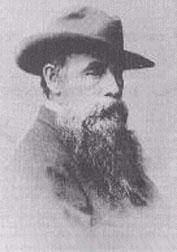 About the author(s): Charles Godfrey Leland was born in August 15 1824

---